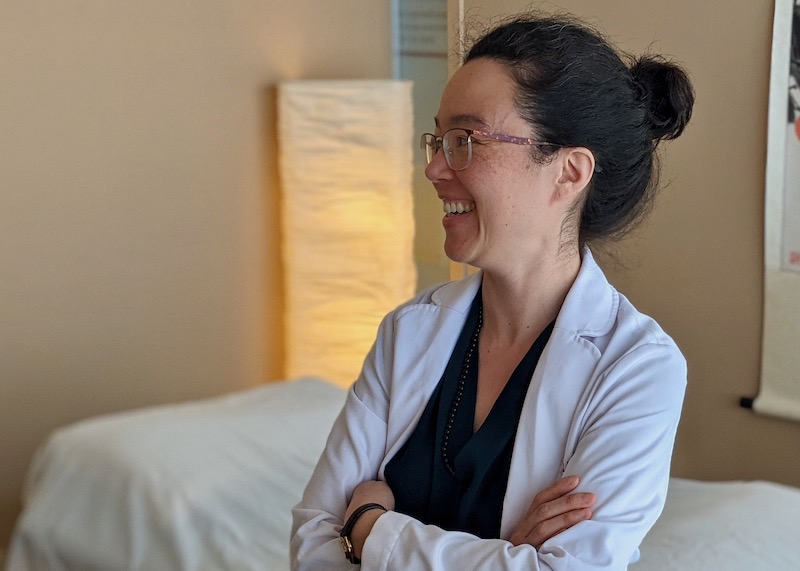 Cara Conroy-Low, R.Ac, Dip. DTCM, B.A. (Hons)
Owner and Acupuncturist
Cara brings a joyful East meets West approach to holistic medicine. As a New Zealand-born citizen of the world, she grew up in New Zealand, Singapore, Japan and China.  Cara has trained in mind-body integrative health for over 12 years.
Specializations include common health conditions, pain, mental/emotional balance, and reproductive and hormonal health for men and women.
As a graduate from the Canadian Institute of Traditional Chinese Medicine, Cara holds an Acupuncture Diploma and a Doctor of Traditional Chinese Medicine Diploma. She is a Registered Acupuncturist in BC.  Her continual training and influences include:
Intensive meditation and mind-body awareness training at Clear Sky Meditation Centre (2008-present) and Dharma Japan (2006-2008).
Classical Acupuncture mentorship with Dr Brenda Hood, Ph.D, R.Ac. (2020-present)
Taichi Qigong Shibashi Teachers Training Program with Fabrice Piche (2020-present)
White Pine Healing Arts Graduate Mentorship Program with Dr Sharon Weizenbaum L.Ac (2021 – present)
Neurological Acupuncture and Classical Acupuncture approaches with Dr Suzanne Robidoux PhD (2019)
Cara takes a whole person approach to health – all factors, previous history, injuries, surgeries, stress, diet and emotions are part of the full picture of any reduced function in our bodies.  By pinpointing and addressing the blocks and helping our nervous system return to balance, our health can re-emerge and flourish naturally.
As a long term student of meditation teachers Doug Duncan and Catherine Pawasarat, and a resident at Clear Sky Meditation Centre, she undertakes long meditation retreats each year.
Book an Appointment
Would you like to book an appointment with Cara Conroy-Low in Cranbrook, BC?
Call 250-421-8280 or book online:
"Cara is incredibly intuitive and caring. She really listens to your health concerns and my body feels years younger since seeing her. My knee pain is gone and I have so much more energy and positivity. Thanks Cara!"