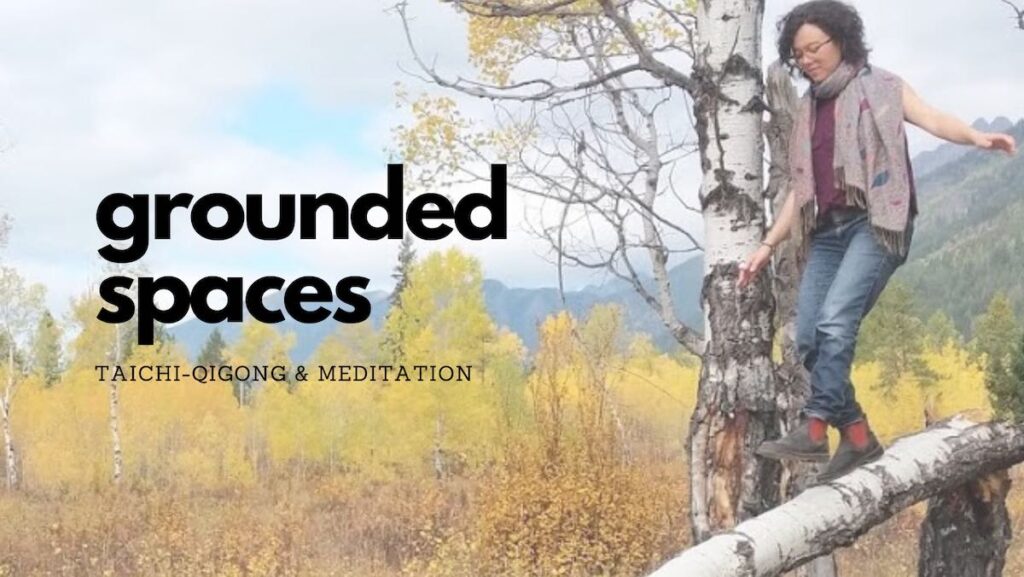 Taichi-Qigong and Meditation
You are invited to join a practice of taichi-qigong and meditation. Classes will now be held on Monday evenings, from 5pm-6:30pm in Cranbrook.  
2023 Taichi Qigong four week series dates:
September 11th to October 2nd, 2023: Details and Registration. 
October 23rd to November 13th, 2023: details coming soon
November 27th to December 18th, 2023: details coming soon
Grounded Spaces: Why these classes?
By experiencing the body, breath, posture and sensations as they are, we can come to listen to our body-mind experience more closely. This allows us to let go of what no longer serves and to nurture the positive in our lives. It helps us re-inhabit the natural flow of awareness and vitality innate in us.
Some of what we will practice:
Learn and practice eighteen simple taichi-qigong movements. These 'Taichi Qigong Shibashi' movements were developed for health, by Professor Lin Housheng at the Shanghai Qigong Institute.
Breathing easy? Learn about and practice optimal breathing anatomy and posture.
How do I meditate? Learn breathing meditation, in four postures from the centuries old (ie. tried and true) Buddhist meditation tradition.
Learn exercises to coming home to your body. If we can rest peacefully in the experience of our body, as it is, we can understand and release armouring, tension and patterns of anxiety or depression.
About the Teacher:
Join Cara Conroy-Lau (R.Ac) – meditation teacher and acu-moxa therapist for a fun and inquisitive exploration into healing. Cara is the owner of Cranbrook Acupuncture Clinic, and an Associate Teacher at Clear Sky Meditation and Study Foundation. She has been practicing meditation, chinese medicine and healing work, alongside her own spiritual journey since 2005 with her dharma Teachers Qapel & Catherine Sensei. Her qigong training is in the lineage of Professor Lin Housheng, under Fabrice Piche.
Location: Stage Door Studio – 11 11 Ave S, Cranbrook, BC V1C 2N9. Classes are on the lower floor – the entry is at the front of the building.
Register now: (Sept 11th-Oct 2 series)
Meditation Circle: Thursday Nights
Do you want to strengthen your meditation and mindfulness practice? Clear Sky Centre offers supportive meditation classes on Thursday nights. Learn fundamentals of meditation, modern Buddhist philosophy and more. Classes are open to all levels of experience.
Join online, or in person at Clear Sky from 7pm-8pm. Recordings are also available. 
Clear Sky Meditation Centre is located in Bull River, BC, 30 minutes drive from Cranbrook.  
Classes are given on a pay by the heart donation basis. Registration is necessary.
Questions? Please phone Cara at 250-421-8280.